Apple Watch

SKU: IWA321

In stock: 3 units
The Apple iWatch is a rumored smartwatch project that operates as a small "wearable computing" smartphone-type device that's worn on a user's wrist. Apple put the rumors of the iWatch to rest on September 9th, 2014, when it officially released the device under the name of Apple Watch instead of Apple iWatch.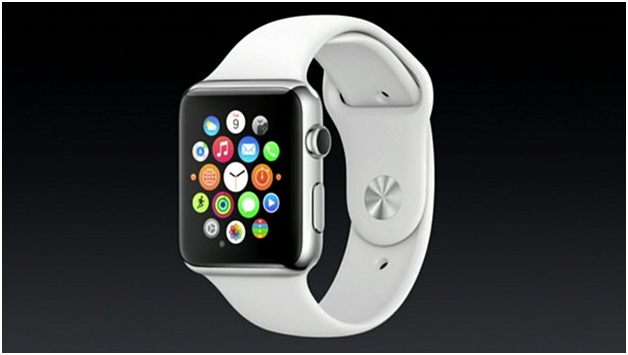 The iWatch is expected to be a wristwatch made of curved glass, possibly Willow Glass from Corning, that pairs, or connects, with another Apple iOS device like the iPhone or iPad to push iWatch-specific content to the device.

As far as features, the Apple iWatch can make calls, check caller ID and access visual voicemail, access stock and weather updates, provide fitness capabilities via pedometer and health monitoring sensors, offer map coordinates and directions, and more.
Apple Watch Features
There are enough unique Apple Watch features to help distinguish this from the throng of other smartwatches already doing the rounds. Immediately you'll notice that the Apple Watch has a custom version of iOS, with all your apps presented in small circles with the Watch app always at the centre.
The entire UI is customisable, too, so you can choose how the apps are presented on the home screen and how they appear in full screen on your wrist.
Although the Apple Watch features a touch screen, you'll be using the Digital Crown built into the Watch's winder as the primary input method.
The Digital Crown is a unique take on the traditional watch winder and functions in a similar way. Turning the Digital Crown lets you scroll through results, zoom in and out on Apple Maps and other features too. Pushing it in takes you back to the Home Screen and gives you access to Siri, which is also built into the Apple Watch.
If you're struggling to get in sync with your new Apple Watch, Apple is to offer in-store training sessions from April 10.
There is also a range of watch faces to choose from, and each one can be further customised with different colours of functions. These faces include options for stopwatches, weather updates, stock quotes and other glanceable information. Apple claims the opportunities for personalisation are "virtually endless".
If you just can't wait to get your hands on the Apple Watch, you can at least have a tinker with a virtual demo, courtesy of demoapplewatch.com.
The site is built by the team behind the Pipes news app, and offers up a digital emulator for the wearbale.
You use your mouse in the same way you would a finger, and can swipe, open apps, play with settings, and peruse the UI.
Related items
Comment and rating: Apple Watch
By John Doe. April 7, 2015.
Love this product! Do you have a different model?
mystore.mx/demo1
Hi John, it's the only one for now, but when we get the new one, we'll let you know. Thanks for your business!
By Mary Moe. April 7, 2015.
Thanks a lot, I've been looking for this product for a long time. Congratulations!