iPhone 6 16GB

SKU: IPH322

In stock: 10 units
Apple now has two larger iPhones: one big, the other even bigger. The iPhone 6 sports a 4.7-inch screen, while the iPhone 6 Plus goes full "phablet" with a 5.5-inch display. Compared to earlier iPhones, both of the new models boast thinner bodies, ship with faster A8 processors, slightly improved cameras, speedier Wi-Fi and LTE cellular data, better voice quality if you're using voice-over-LTE, and -- except in the entry-level models -- more onboard storage.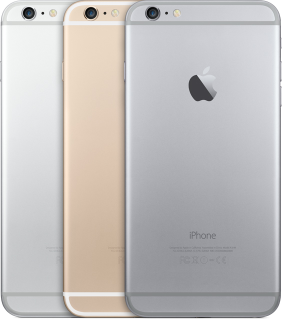 And like all current iPhones, these are running iOS 8.1; it's a far less revolutionary update than iOS 7 was, but it adds some nice improvements and customization options, including notification widgets, replaceable keyboards, a new Health app and Apple Pay.
Screen: 4.7in 720x1334 IPS LCD (326ppi)
Processor: 1.4GHz Apple A8 processor
RAM: (unspecified)
OS: iOS 8
Storage: 16/64/128GB
Battery: (unspecified)
Camera: 8MP 1080p@60fps, 720p@240fps rear, 1.2MP 720p front
Connectivity: Wi-Fi 802.11 a/b/g/n/ac, Bluetooth 4.0, NFC (Apple Pay only), 3G/4G
Dimensions: 138x67x6.9mm
Weight: 129g
Related items
Comment and rating: iPhone 6 16GB
By John Doe. April 7, 2015.
Love this product! Do you have a different model?
mystore.mx/demo1
Hi John, it's the only one for now, but when we get the new one, we'll let you know. Thanks for your business!
By Mary Moe. April 7, 2015.
Thanks a lot, I've been looking for this product for a long time. Congratulations!